"Le Monde du Silence", 36x48in
I love to imagine creatures of all kinds moving through their environments, unseen, and indifferent to our lives. An immense ebb and flow of life, crawling, soaring, swimming, and walking under and over the Earth, forming and abstract organism moving ever forward.
"Dirty Mattress, Jurassic Park", 48x60in
This is that defiant feeling of accomplishment that you feel on your first night living in a new place. Sitting on a pink polka dot mattress on the floor instead of a couch, watching a VHS copy of Jurassic Park on a TV thats also on the floor, eating takeout and wiping your hands on coffee filters left by the previous tenant because you forgot napkins, paper towels, and toilet paper. Alone in a house that echoes, totally satisfied.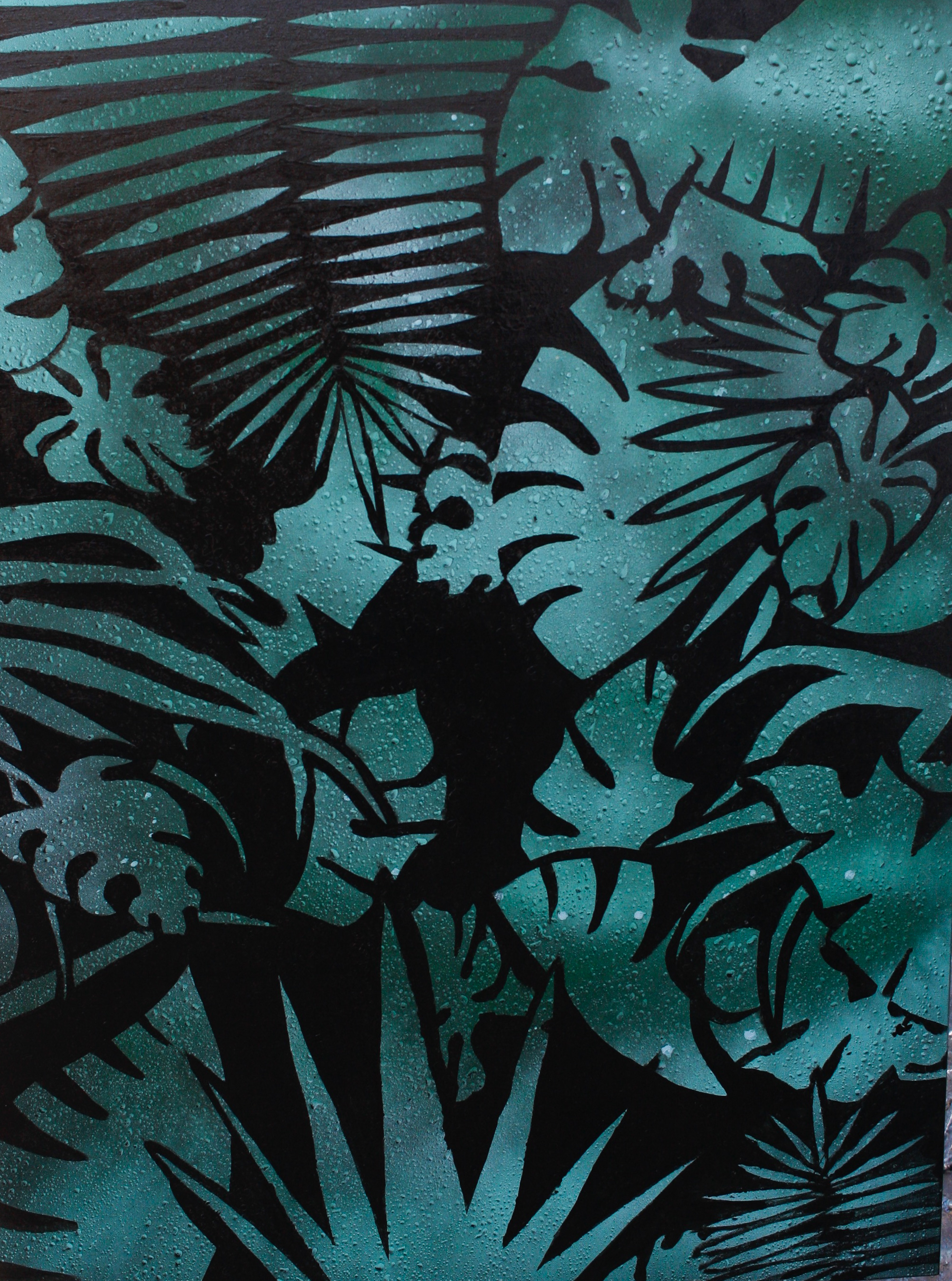 "The Heart of Darkness", 36x48in
There's a pause that happens as you walk through the forest. When you stop, stand silent, and let natures jury decide your intentions. Every eye, ear, fiber, cell, and tendril reads the map of your posture in total silence. I love this short and tense trial before the verdict of innocence erupts out in a cacophony of animal sounds and the audience of wind and water let out their breath in relief. Welcome to the woods.
"Smoking Cigarettes Under the Pier", 48x60in
This is the underside of every Myrtle Beach-esque town I've ever been to. Starfish and shirtless teens on meth, old hotels and ash covered sand, misspelled curse words, and declarations of undying teenage love written in spray paint.
"St. Bernard", 36x48in
"Greenland", 48x60in
I love to fly over Greenland. I peer out the tiny airplane window searching the white for any sign of life... a snowmobile track, a series of paw prints, a settlement... anything.. Yet always, nothing. I think of the peaks and valleys buried far from sight. I imagine the future homes on the most desirable coasts, and the future wars fought for unknown resources. I dream of its fate, like a baby still in the womb, and I feel lucky to be here in this time, in this airplane, looking down at nothing.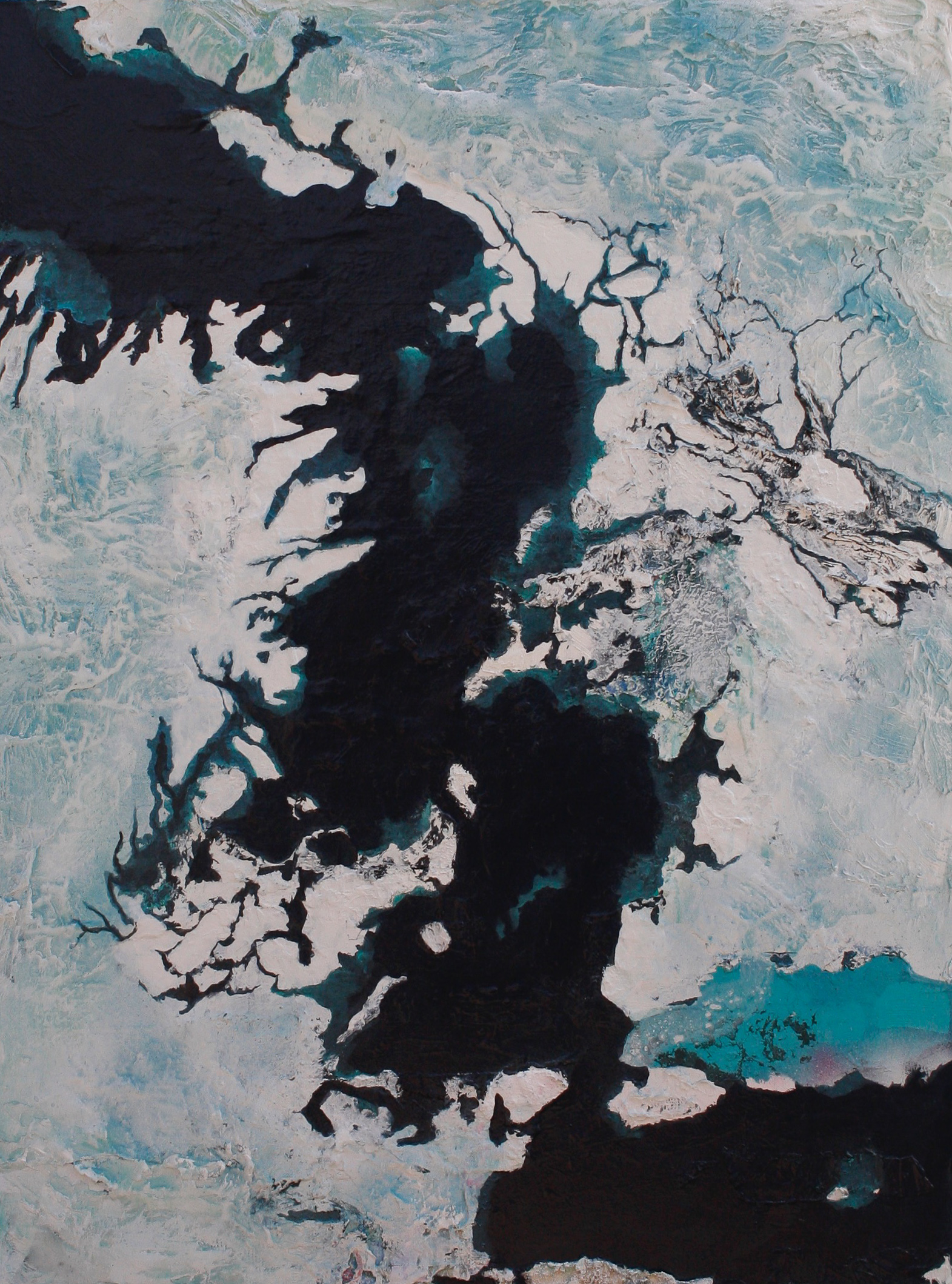 "Overview Effect", 36x48in
There is a phenomenon known as the "overview effect" that happens to astronauts when they see the Earth from space for the first time. This new perspective of their home, free from national borders and strife, is reported to produce a profound cognitive shift in the minds of these astronauts, and make clear the need to nurture the ember of life in the blackness of space.
 
"Paraguay", 48x60in
"Coral", 48x60in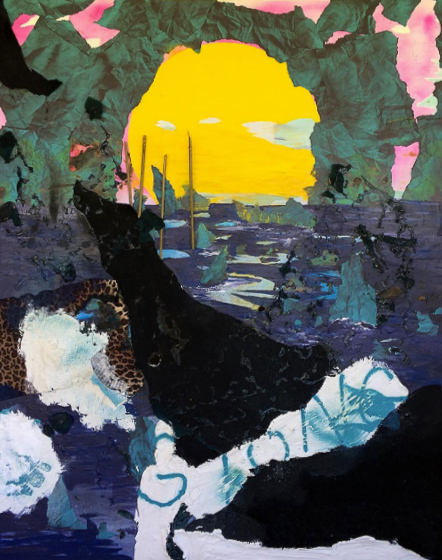 "The Final Scene", 48x60in
It's the final scene. Everyone's dead except the the main character. "Unchained Melody" plays as she looks out the back of the boat at everything back on land burning down to ash. Muscles ache, adrenaline is high, clothes are ripped, screen goes black with the final note of the song. As the credits roll up "Lonesome Town" by Ricky Nelson Plays. We stand up, our eyes adjust, and we try to remember where we parked.